Date: August 6, 2020
Time: 12 - 1 PM PT // 2 - 3 PM ET
Overview
The passage of Colorado's Climate Action Plan in 2019 (HB19-1261) set goals to reduce greenhouse gas emissions (GHG) by at least 26% by 2025, 50% by 2030, and 90% by 2050, based on the statewide GHG emissions in 2005.
Please join fellow business leaders to learn how the process to set Colorado on a path to achieve these statewide GHG reductions is coordinated by Colorado's Air Quality Control Commission (AQCC), Colorado Department of Health and Environment (CDPHE) and additional state agencies.
The first webinar in this two part series will give an overview of the components of a state level greenhouse gas emissions inventory, discuss Colorado's 2005 and 2019 GHG inventory, and look at sector emissions reductions required to meet the Climate Action Plan goals.
You will also learn about the state's implementation roadmap in development, which identifies steps to reach these goals, and an overview of efforts thus far. Ariana Gonzalez will provide a brief overview of NRDC's new, comprehensive "Decarbonization & Equity" regional report. This report highlights Colorado and provides high-level policy recommendations in accordance with emission reduction goals.
Our ability to meet the GHG reduction goals is linked to Colorado's clean economy. You will have the ability to ask questions about this process and policies and learn about how business leaders can engage with the rulemaking, and how smart regulations can create a better environment, economy and society in Colorado.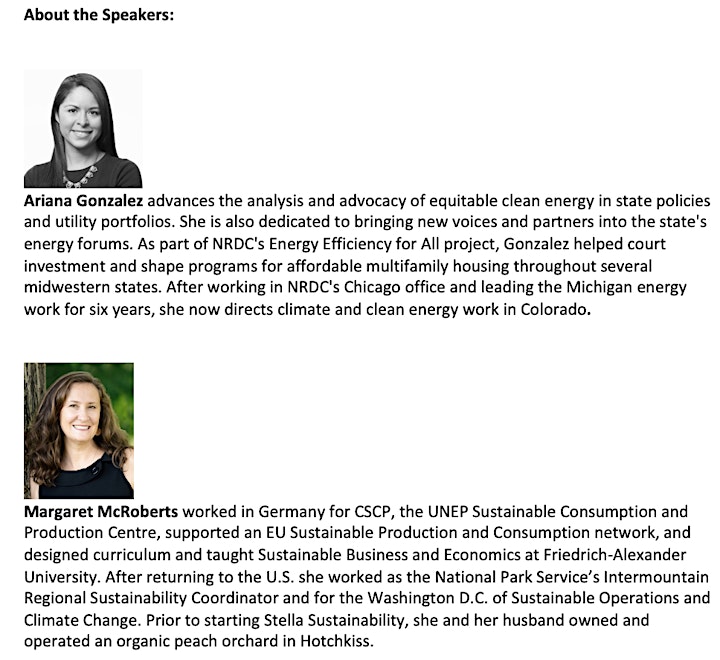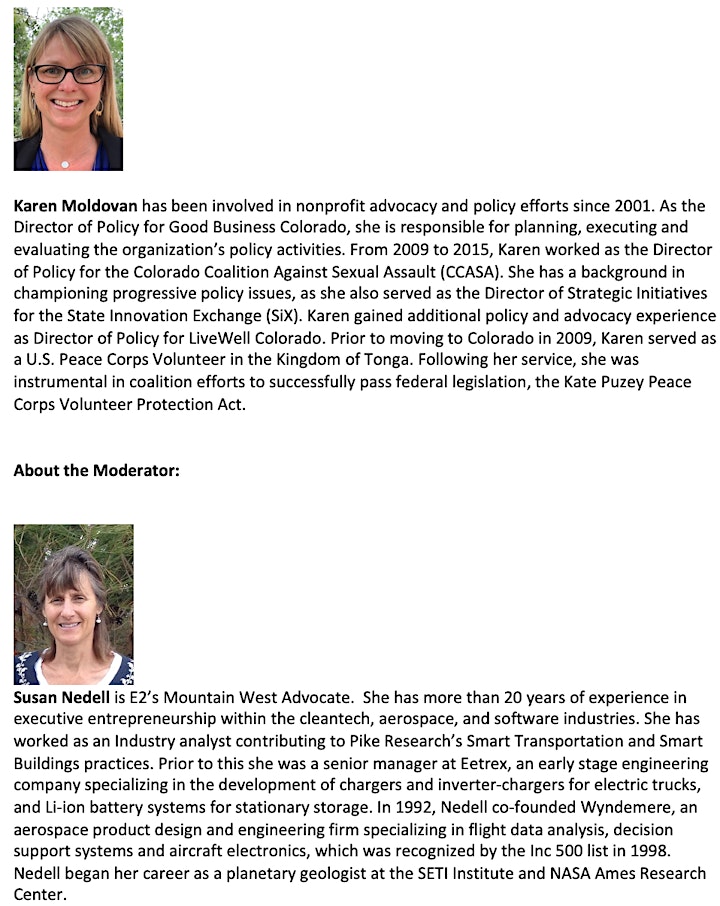 About E2:Environmental Entrepreneurs (E2) is a national, nonpartisan group of business leaders, investors, and professionals from every sector of the economy who advocate for smart policies that are good for the economy and good for the environment. Our members have founded or funded more than 2,500 companies, created more than 600,000 jobs, and manage more than $100 billion in venture and private equity capital. For more information, see www.e2.org or follow us on Twitter at @e2org.
About GBC:
Good Business Colorado is a grassroots organization of values-driven business owners rejecting partisanship and advocating for a prosperous economy, equitable communities, and a sustainable environment. Our members believe that business success cannot be measured by profit alone and that true success means that our planet, communities, and bottom lines are all thriving. For more information, visit www.GoodBusinessColorado.org
About Best for Colorado:
Best for Colorado, is a program of The Alliance Center, a multi-faceted nonprofit with an event and collaborative working space located in the heart of Denver. This pivotal program led in partnership with B Lab, aims to inspire, equip, and celebrate Colorado businesses that are creating higher-quality jobs, building stronger communities, and preserving the environment. Visit www.thealliancecenter.org/bestforcolorado/ for more information.